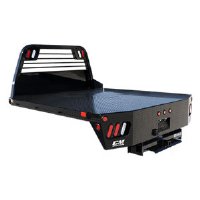 We have over 180 pickup flatbeds for trucks for sale! Installed while you wait! In stock at our Carterville and Mount Vernon, IL stores! We sell and install pickup flatbeds, pickup dump bodies, dump beds, dump flatbeds, and service bodies.
We have in stock lots of Zimmerman flatbeds, CM flatbeds, Bradford Built flatbeds, CM Service Bodies, Dump Bodies, Platform beds, and Aluminum Flatbeds, and can get any Knapheide Service body or Knapheide Flatbed you want.
We have many years of experience specifying and installing aftermarket bodies on pick trucks and will put that experience to work for you! We will make sure you get the right flatbed for your truck. We have experienced, professional installers that will take good care of your truck and make sure the bed is installed correctly! If you are removing a bed from a 2017 or newer truck, you will likely have to get a truck dealer to flash the computer with a bed delete code to eliminate lamp out error lights on the dash.

Check out our inventory below or call us at 618-242-0800 and we will help you with your pickup bed needs!
Pickup Flatbeds for Trucks for Sale
TRAILER LENGTH IN FEET