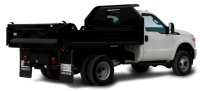 CM & Knapheide Dump bodies for sale at Country Blacksmith Trailers.
It takes 2 days to install a dump body. We have a courtesy vehicle available for installation customers.
Dealership volume discounts available.
Check out our inventory below or call us at 618-242-0800 and we will help you with your pickup bed needs!
Pickup Dump Bodies For Sale
TRAILER LENGTH IN FEET
Selling Price:
$10,629.13
Selling Price:
$11,708.27
Sale Price:
$10,750.00

More Details

Add to Cart
SALE PENDING! CALL FOR AVAILABILITY.
Selling Price:
$11,990.92
Selling Price:
$11,996.18
Selling Price:
$12,800.07
Selling Price:
$12,805.93
Selling Price:
$12,969.80
Selling Price:
$16,389.26
Selling Price:
$17,854.23