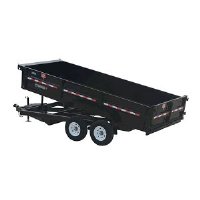 Find Heavy Duty Dump Trailers for Sale in Illinois
If you need extreme carrying capacity, then dump trailers are the perfect option. If you are looking for a heavy-duty dump trailer in Illinois, look no further than the team at Country Blacksmith Trailers. We feature a wide range of dump trailers suitable for any purpose, with trailer lengths ranging from 10 to 20 feet for superior choice. We have years of experience in helping out clients find dump trailers for their work, and will go above and beyond to ensure that you are completely satisfied with your purchase.
Benefit from a Team Experienced with Dump Trailers
At Country Blacksmith Trailers, we sell Top Hat dump trailers, Diamond C dump trailers, Load Trail dump trailers, and gooseneck dump trailers. As your premium provider of heavy dump trailers for sale in Illinois, we offer powerful solutions that never break the budget. Our team goes above and beyond to ensure that you have the right equipment for any application, and our years of experience in the industry means that you benefit from our superior knowledge and resources. To find out more about our dump trailers for sale, contact our team today by calling us at (618) 985-8800.
Dump Trailers for Sale
TRAILER LENGTH IN FEET