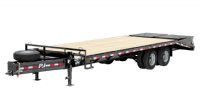 We have new and used pintle hitch trailers for sale and in stock.
From 20' to 35' lengths, we have a couple to choose from. We can also order you a cusom pintle hitch trailer with options like air brakes, monster ramps, 2 speed jacks, air ride, and many other options.
We highly recommend the Diamond C Fleetneck Pintle Hitch Trailers! 16" engineered beam frame, loprofile deck, Max ramps, torque tube, arched beam frame, and epoxy primer and paint on top of sandblasted frame, make these pintle hitch trailers one of the best in the industry!



Pintle Hitch Trailers For Sale
TRAILER LENGTH IN FEET
Selling Price:
$2,254.74
Sale Price:
$1,800.00
Selling Price:
$23,861.29
Selling Price:
$37,958.79
Sale Price:
$34,995.00