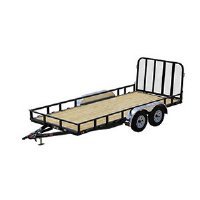 Rent to Own Dump Trailers Rent to Own Utility Trailers Rent to Own Flatbed Trailers
NOW!! RENT TO OWN ANY NEW TRAILER ON OUR LOT!

RENT TO OWN ANY NEW TRAILER UP TO $25,000 SELLING PRICE. YOU CAN RENT TO OWN A TRAILER THAT IS PRICED HIGHER THAN $25,000, BUT HAVE TO PAY THE DIFFERENCE AS A DOWN PAYMENT.

We offer a Rent-To-Own program that is available in most states.
Fill out the application at the link below and we will get the trailer ready and contact you! Have the Year, Make, and VIN copied down to enter into the application. There is 24, 36 and 48 months Rent To Own terms available. ALL RENT TO OWN TRAILERS ARE SOLD FOR SELLING PRICE! NO SALE PRICES WILL BE HONORED FOR RENT TO OWN CONTRACTS.
View Inventory
We will need:
1. A valid driver's license
2. A valid vehicle insurance card
3. A Copy of your vehicle Insurance card
4. A utility bill or some official proof of address
5. The initial RTO payment
TO START A RENT TO OWN CONTRACT REQUIRES AN ESTIMATED 15% OF TRAILER SELLING PRICE AS STARTUP COSTS.
Example: a trailer with a $10,000 price would require an estimated $1500 startup payment.
We highly recommend the 36 month term as it save a significant amount versus the 48 month term.
You can pay the trailer off early after 4 months of rental. There is a SIGNIFICANT discount on the remaining balance if you pay the trailer off early! The early payoff balance will be listed on each of your monthly statements.
Come and get your trailer today!
Rent To Own Trailers Near Me
TRAILER LENGTH IN FEET