CALL or TEXT: Mt Vernon: (618) 241-0119 | CALL or TEXT: Carterville: (618) 238-2705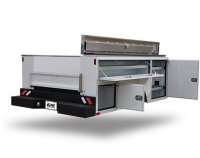 We have Service Bodies for sale! We install them while you wait! CM Service Bodies in stock and Knapheide service bodies available to fit Ford, Dodge, and Chevy pickup trucks.

Check out our inventory below or call us at 618-242-0800 and we will help you with your service body installation needs!
Pickup Service Bodies for Sale
TRAILER LENGTH IN FEET