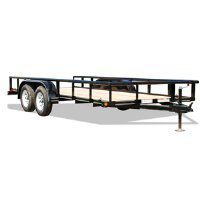 Find Used Trailers for Sale in Illinois
Purchasing equipment for your work can be extremely expensive, but used trailers make it more affordable to get exactly the trailer you need. Country Blacksmith Trailers specializes in offering exceptional choice when it comes to used trailers in Illinois. We have extensive experience in the industry and ensure that each customer has the right equipment for their important work. Benefit from our in-depth industry knowledge, and find the right trailer to suit your specific purposes with ease. See how you can save with high quality used trailers that offer value.
Used Enclosed Car Trailers for Sale and Much More
At Country Blacksmith Trailers, we offer our Illinois customers a wide selection of trailer options to cater to any need. We feature used enclosed cargo trailers that offer protection and security, as well as used dump trailers for sale that make any work a breeze. We can also help you find tilt trailers, horse trailers, gooseneck trailers, and much more at prices that cannot be beaten. Enjoy quality customer service and find the right trailer that offers power and convenience. For more information on our range, contact our helpful team today at (618) 985-8800.
Used Trailers for Sale
TRAILER LENGTH IN FEET
Browse these categories under "Used Trailers for Sale"
---
Featured products under "Used Trailers for Sale"