When it comes to towing a trailer, one of the most important things needed is a hitch. Without it, of course, you can't haul a trailer. Having the proper trailer hitch is crucial. This includes the correct type, strength, and hitch ball size. There are a lot of great hitches out there that can do the job, however. We'll dive into the types of hitches and important features of each.
What is a Trailer Hitch?
A trailer hitch or tow bar is an accessory that attaches to your vehicle's frame or chassis to allow the safe connection and towing of a trailer behind a vehicle. The only part of the hitch that may be visibly seen is the square shaped receiver tube, which the ball mount slides into. It is common to see the ball mount and trailer ball collectively referred to as a hitch as well.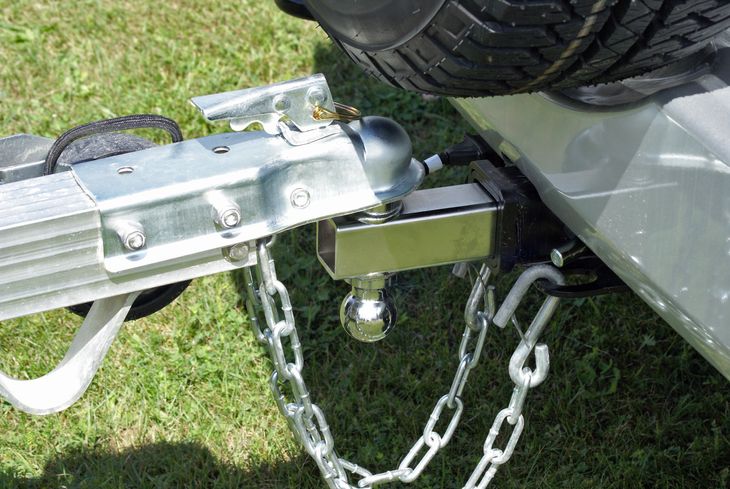 Bumper Pull vs. Gooseneck Trailer Hitches
Bumper Pull Hitches
Bumper pull hitches are easier to hook up, and can be used with any vehicle. They're ideal for first-time trailer buyers and those with pickups who desire truck beds clear of the gooseneck hardware. An open truck bed without the gooseneck hitch and trailer tongue increases your payload capacity without going over your GVWR. However, bumper pull hitches have limitations on the weight and size of the trailers and cargo they can haul. Additionally, there is more trailer sway with bumper pull hitches if they are not hooked up properly or if cargo is unbalanced. Lastly, there is a limited turning radius with bumper towing, so turns must be wider around corners.
Gooseneck Hitches
Gooseneck hitches provide amazing stability because the weight is placed over the rear axles of the truck compared to the bumper. This also gives gooseneck hitches the ability to tow larger trailers and heavier cargo. Additional benefits include improved maneuverability and a tighter turn radius. This means turns can be sharper than a bumper pull. The main disadvantages with pulling longer and heavier trailers with goosenecks is that you need a heavy-duty truck. You may also need a Commercial Driver's License (CDL). However, CDLs depend on the length of the trailer and the state you're are driving in.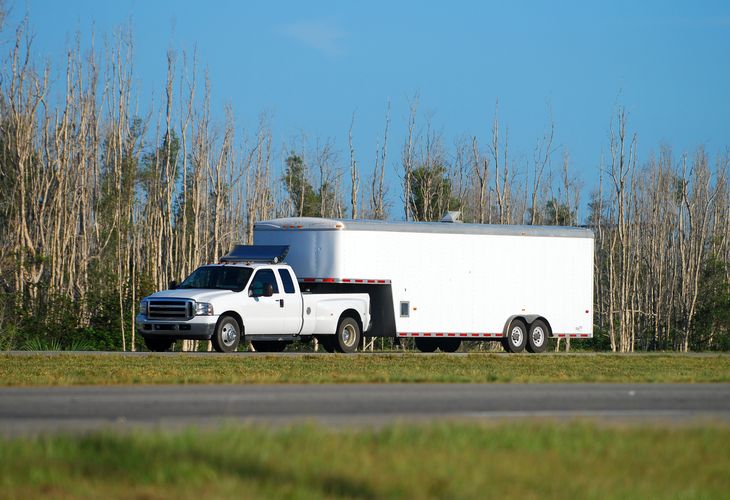 What is the Strongest Trailer Hitch?
Overall, trailer hitch strength breaks down into 5 classes. Gross Tow Weight (GTW) increments from 2,000 pounds all the way to 20,000 pounds. However, even if a hitch is in a particular class, it could be rated differently depending on the model and manufacturer.
Class 1 Trailer Hitch (GTW up to 2,000 lbs. / 1.25" Receiver Tube)
This class is for light duty work, and you'll find it on most compact and midsized cars.
Class 2 Trailer Hitch (GTW up to 3,500 lbs. / 1.25" Receiver Tube)
This hitch is for moderate use and can be found on cars, crossovers, and minivans.
Class 3 Trailer Hitch (GTW up to 8,000 to 12,000 lbs. / 2" Receiver Tube)
Most commonly installed on pickup trucks and SUVs, this hitch is strong and versatile.
Class 4 Trailer Hitch (GTW up to 12,000 to 14,000 lbs. / 2" Receiver Tube)
This class is more for full-sized and heavy-duty pickup trucks towing larger trailers and heavier loads.
Class 5 Trailer Hitch (GTW up to 16,000 to 20,000 lbs. / 2" or 2.5" Receiver Tube)
You'll find these installed on heavy-duty pickups or truck flatbeds for commercial or heavy-duty work.
Trailer Hitch Safety Checks and Maintenance Tips
Use the Correct Ball Size
Most towing jobs can be done by between a 1 7/8-inch, 2 inch or 2 5/16-inch sized trailer ball (or hitch ball). However, the diameter of your ball must match your trailer's coupler opening size. You can use a ruler or measuring tape to determine the opening size on the coupler's head. If it measures 2 inches, your hitch ball must be 2 inches. Having the exact fit is necessary for both safety and usability.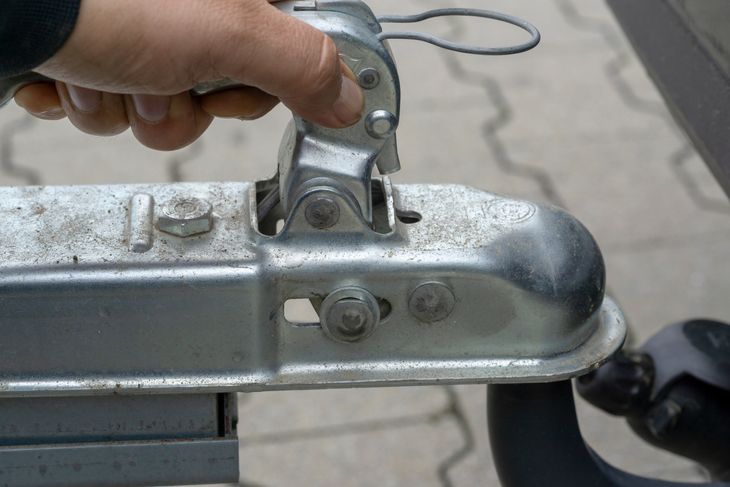 Cross Safety Chains
A common mistake is connecting the safety chains straight across instead of crossing them. Chains should be loose enough for turns and cross over each other in an "X" shape under the trailer coupler. If the trailer should ever disconnect on the road, the crisscrossed chains will catch the trailer tongue like a safety net. Otherwise, the trailer tongue would drop directly to the ground, digging into the road. This could cause considerable damage to your vehicles and put your safety at risk.
Use Ball Grease
Hitch balls receive a lot of friction from the trailer's coupler sliding around it as it's pulled. Greasing your hitch ball will help extend the life of it, reducing scratches and pitting. Even though the coating painted on some hitch balls looks great, it alone is no replacement for a little bit of grease.
Check Electrical Components
When you pull a trailer, always ensure your wiring harness connects and powers it's components like lights and brakes. This is especially important when driving at night and visibility is limited. You may not always see burnt out taillights or brake lights when on the road, so always test them out before taking off.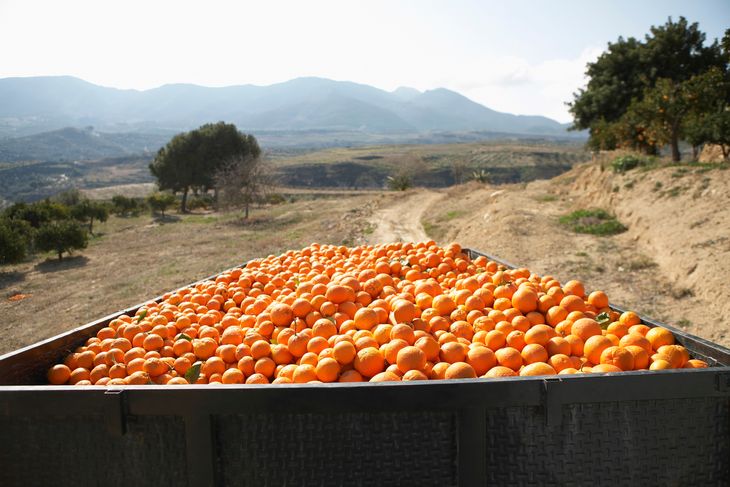 Respect Weight Limits
When you buy hitches and accessories, ensure they are rated for the weight of your trailer and the cargo you intend to pull. In addition, make sure your cargo load is balanced properly. Too much weight in the back will lighten the tongue weight, and your vehicle to fishtail more when changing lanes.  Too much weight on the front will put undue stress on the hitch and tow vehicle, which can cause excess wear and damage.
Lock-Mounted Trailer
Once your trailer coupler is connected to the hitch ball, it's never a bad idea to add a security lock to keep anyone from stealing your trailer and potential cargo.  Vehicle and trailer theft is common in the United States, happening once every 40 seconds in 2017. A formidable lock is a small price to pay to deter thieves and keep your trailer in your possession.
If you're looking for the best trailer hitches, quality parts or accessories, Country Blacksmith Trailers has what you need. Our expert staff members can answer any question and check if the trailer parts you're looking for are in stock. In addition, we carry hundreds of new and used trailers for sale at our two trailer dealerships in Illinois. Contact Country Blacksmith Trailers and let us serve you today!