CALL or TEXT: Mt Vernon: (618) 241-0119 | CALL or TEXT: Carterville: (618) 238-2705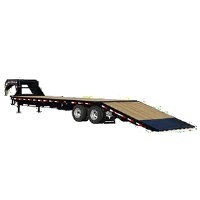 Check out our large inventory of Hydraulic dovetail trailers for sale.
We stock PJ Hydraulic dovetail trailers, Diamond C Fleetneck Engineered Beam Hydraulic Dovetail Trailers, and Country Blacksmith Hydraulic dovetail trailers in length from 30'-40'.
Call us and we will educate you on the pros and cons of the various hydraulic dovetail trailers for sale today! We have lots of experience and have seen quite a few different things in the last 20 years and will use that knowledge to help you make the right trailer decision!


Hydraulic Dovetail Trailers for Sale
TRAILER LENGTH IN FEET
Selling Price:
$18,236.38
Sale Price:
$15,550.00
Selling Price:
$19,342.45

More Details

Add to Cart
SALE PENDING! CALL FOR AVAILABILITY.
Selling Price:
$21,129.74
Sale Price:
$17,950.00
Selling Price:
$21,734.22
Selling Price:
$23,561.24