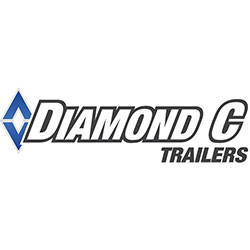 Diamond C Trailers on Display for Sale at Country Blacksmith Trailers.
See all our Diamond C Trailers for Sale inventory listed below!
Visit our
Trailer Buying Guide Page
Why should I buy a Diamond C Trailer?
Diamond C builds one of the best steel framed open trailer that you will find. Diamond C is a family owned company that has been building trailers for over 25 years!
We really enjoy doing business with Diamond C. they have a phenomenal company culture and they know how to build a trailer and make it long lasting and heavy duty and offer all the right options. Features like lifetime LED lights, sealed wiring harnesses, Lippert axles, radial tires, DM difference maker coating system, and a patented engineered beam frame set the Diamond C Trailers in a league of their own. They have innovated and designed many industry first trailers such as the Low-profile I-beam dump and I-beam equipment trailers and the Engineered Beam gooseneck. Other manufacturers have unashamedly copied their best-selling designs and we enjoy being a part of the most innovative family team in the trailer industry!
The baked-on powder-coat finish is the best we have seen of any trailer manufacturer and holds up very well under high salt conditions. This durability is due to the detailed prep process and special primer that they use to make sure we are getting a trailer that looks fantastic year after year of use.

We sell over 50 models of Diamond C Trailers online and can customize them with optional features. You will find their trailers come with tons of standard features and continue to lead the trailer industry through excellent quality and value, cutting edge innovation, and superior customer service. Shop our inventory of Diamond C Trailers, you will find tilts, car haulers, flatbed, equipment, skid steer, gooseneck, and dump trailers.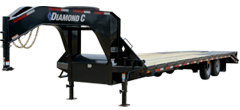 The new Fleetneck Engineered Beam showcases Diamond C innovation. This heavy equipment trailer is taller, lighter, and stronger than other I-Beam trailers. It is optimized end-to-end including an arch in the middle to help from sagging. These tandem-dual gooseneck weights can be reduced by 300-1000+ pounds all the while being able to handle a higher payload. If you have any questions about these trailers, please give us a call!
Diamond C Trailers for Sale
TRAILER LENGTH IN FEET