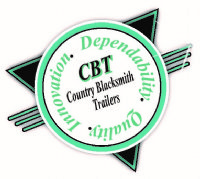 The Country Blacksmith brand is a premium quality trailer backed up by our in house, 5 year warranty on the frame and wiring! We as a business guarantee your satisfaction with these trailers!
In the cargo trailers we have several lines for your consideration:



The BRONZE Series Trailers

is an entry level line that will serve the occasional user very well. All the economy trailer brands that you find for sale, often bought direct from a manufacturer, literally come apart under heavy use! Screws popping out, sheets separating, axle hangers failing, ramp door hinges binding, doors sagging, no metal prep before paint, poor wiring and lights that work intermittently, and in extreme cases frames failing. Our BRONZE series gives you an economy line trailer that has strategic frame upgrades to conquer these issues while still being affordably priced! We recommend our Bronze series for the occasional, light duty user. We also recommend the Homesteader Intrepid model for this level of user. We have recently added them to our line up of enclosed trailers and are pleased with the product they provide.



Our SILVER Series Trailers

are designed as an affordable, regular use trailer. These have even more frame upgrades and are perfect for beginning business's, folks looking for a better quality trailer, heavy loads, and frequent use. We can do many options on the SILVER series trailers. Options like tie downs, bathroom packages, interior cabinets, awnings, etc. Just ask us for the options you need on your trailer! The SILVER series gives you a strongly built, affordable trailer that will give you many years of trouble free service!



Our GOLD Series Trailers

are our premier enclosed trailer line built with the round top and wedge nose for added strength and durability. These trailers also receive closer floor members, wall posts, and roof bows along with other structural upgrades. They host premium features like, heavier exterior skin, triple tube tongue, round top, wedge nose, one piece roof, more frame upgrades, etc.! These trailers will stand up to your every day use and transportation needs that demand a quality built trailer.



Our PLATINUM Series Trailers

give you the best enclosed trailer available. Built much like the GOLD series but equipped with torsion axles making for a smoother ride and better towing experience. Just think, no suspension parts that brake or ware out and need replaced. Some of our PLATINUM trailers are built with extra options such as: translucent roof, screwless exterior, extra tail lights, and more.

These trailers will give you the best trailers available and stand up to severe duty use!



Thanks for your interest in Country Blacksmith Trailers! Check back often because we have trailers arriving weekly!
Country Blacksmith Trailers for Sale
TRAILER LENGTH IN FEET