OPEN HOUSE THIS SATURDAY 5/30/2015 AT THE CARTERVILLE STORE!

SERVING PORKBURGERS AND ICE CREAM! HOURS ARE 8 AM- 3 PM. 10% OFF UP TO $500.00!

COME SEE US SATURDAY AT CARTERVILLE!

MUST STOP IN OR CALL THE CARTERVILLE STORE (618-985-8800) ON SATURDAY 5-30-2015 TO RECEIVE DISCOUNT OFF OFF NORMAL RETAIL PRICE.

Welcome to Country Blacksmith Trailers


Over 500 Trailers in Stock Now in Southern IL

Welcome to our website! Look around awhile! We have tried to make it easy for you to find the trailer you are interested in.

If you cannot find the trailer you need, (or just are tired of looking) please call us and we WILL be able to help you!

We have years of experience and would like to help you find a trailer! It's how we feed our families, after all!

Thanks for stopping in!

Country Blacksmith Trailers is a family owned trailer sales and service company with over 500 trailers in stock in Mt. Vernon, IL and Carterville, IL. It is our goal to follow the "Golden Rule" and treat others as we would like to be treated!

We have been in business since 2001 and have the experience necessary to help you with your trailer needs. We sell

trailers

,

truckbeds

, and

repair all brands of trailers

.

WE ACCEPT TRADEINS! Email us pictures and description of your tradein and we will give you retail and tradein values! Use the "What is my Trailer Worth" page to submit your tradein information to us and we will respond promptly.

We have a wide variety of brands and types to meet the many different needs of our customers.

The types of trailers we sell are: Dump Trailers, Gooseneck Trailers, Cargo Trailers, Tilt Trailers, Utility Trailers, Flatbed Trailers, Car Trailers, Step Deck Trailers, Fuel Trailers, Livestock Trailers, Horse Trailers, Custom Trailers, Aluminum Trailers, Concession Trailers, and Used Trailers.

The brands we sell are: PJ Trailers, Featherlite Trailers, Haulmark Trailers, Diamond Cargo Trailers, Aluma Trailers, Load Trail Trailers, Big Tex Trailers, Rice Trailers, Trophy Trailers, and Air Tow Trailers.

We offer short lead time on special orders! We have shorter lead times than most dealers because we always have trailers on order and can change them to the exact specs you would like. This shortens our lead times to 2-3 weeks in most cases!

We will deliver trailers to you for $1.95 a mile one way within a 200 mile radius of our Mt. Vernon, IL store.

We have a full line of trailer parts in stock in our store and can drop ship parts directly to you.

Our trailer repair facility is fully equipped to install hitches and repair any type of trailer problem. We repair axles, brakes, enclosed trailer side sheets, trailer frames, jacks, insurance repairs, electrical problems, and vehicle to trailer electrical issues.

Call us today and we will do our best to meet your trailer-ing needs!

Why should you do business with Country Blacksmith Trailers?

We have the experience to help you to make the best trailer buying decision for your needs!
We sell the industry's top quality trailers and they will give you many years of service!
A full service trailer repair shop!
Service AFTER the sale!
Prompt warranty service, when needed.
Low pressure sales staff that will assist you in making the right trailer purchase.
A large inventory to choose from!
We always have trailers on order, so we can get you a customized trailer quickly!
Featured Units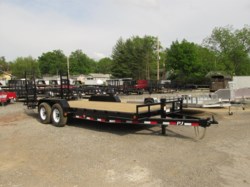 2014 PJ Trailers
2014 PJ 20' x 6" Channel Equipment Trailer, BP 2 5/16" Adjustable (14,000 lb.) Coupler, 20ft Deck 2-7,000# (Dexter) Electric / Spring Axles, 2' Dovetail w/ 5' Fold-up Ramps, Black Powdercoat,... More
$4,625.00
View Details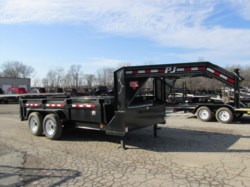 2015 PJ Trailers
2015 PJ 14' x 83" Low Pro Dump GN 2 5/16" Round (25,000 lb.) Coupler, 14ft Deck, 2 - 7,000# (Dexter) Electric Brake / Drop Axle Split / Spreader Gate, Black Powdercoat, Tarp Mounting Bracket,... More
$9,095.00
View Details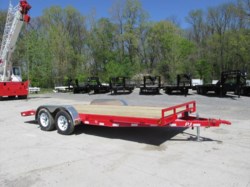 2015 PJ Trailers
2015 PJ 18' x 5" Channel Carhauler, BP 2" A-Frame Coupler, 18ft Deck, 2 - 3,500# (Dexter) Electric / Spring Axles, 2' Dovetail w/ 5' Rear Slide-in Ramps, Red Powder Coat, 16"oc Crossmembers,... More
$3,550.00
View Details